Síðiustu tvo daga höfum við hjólað suður Baja skagann. Við erum að komast í ferðagírinn, byrjum snemma og endum seint. Allir verkirnir sem höfðu gleymst eftir fyrri ferðir hafa verið að minna á sig, bakið, fæturnir, sama hvað það er, verkurinn er á sínum stað.
Veðrið hefur verið blandað, allt frá mikilli rigningu til hlýju og sólskins. Gærdagurinn hófst á því að himnarnir opnuðust og úr kom úrhelli, en eftir hádegi og allan daginn í dag hefur það verið nánast fullkomið. Hitastigið yfir 20°C og hálfskýjað. Vegirnir hafa verið allt frá mjög góðum malbikuðum aðalvegum að slóðum í eyðimörkinni.
Við komum að La Paz, höfuðborg Baja Californiu Sur, í myrkri og tékkuðum okkur inn á hótel án þess að sjá borgina. Planið er að skoða sig aðeins um áður en við förum í ferjuna til TopoloBampo. Við munum yfirgefa Baja á morgun með góða tilfinningu og minningar.
The last two days we have been heading south the Baja Peninsula. We are getting into the mood, meaning starting early and ending late. All the forgotten pain from previous tours are becoming a reality, back, legs just name it it's there.
The weather has been mixed, from heavy rain to warmth and sunshine. Yesterday started with rain like the heavens opened up but after lunch yesterday and today has been almost prefect. Temperature above 20 degrees and partly clouded. The road has been from very good paved main roads to trails in the desert.
We arrived in La Paz, the capital of Baja California Sur, in the darkness and checked in to a hotel without seeing the city. We plan to go sightseeing before taking the ferry to TopoloBampo. It is with good feeling and good memories we leave Baja tomorrow.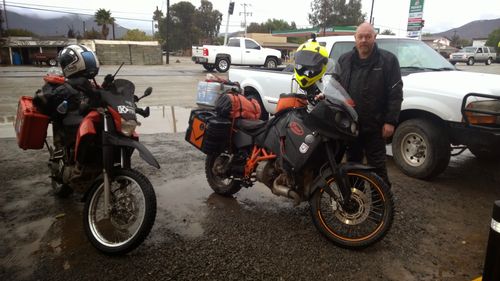 Wet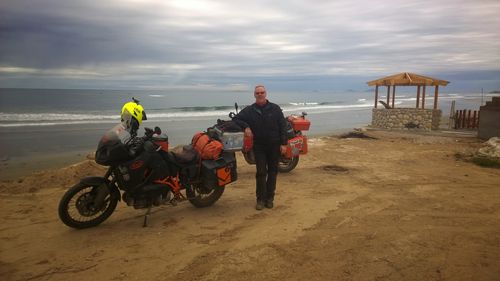 Sverrir on the beach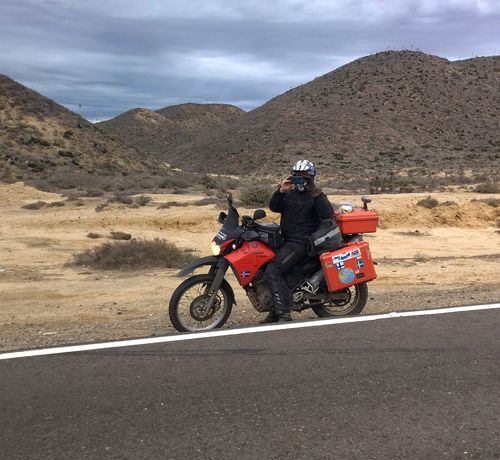 Brother taking a picture of his brother taking a picture of his brother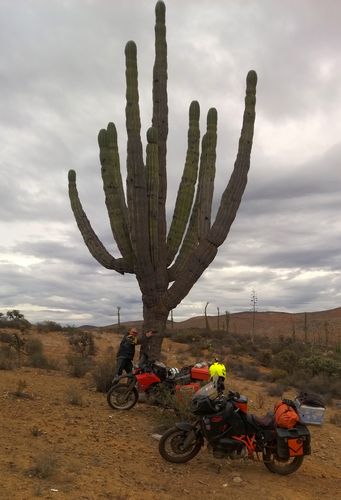 Two 'old' men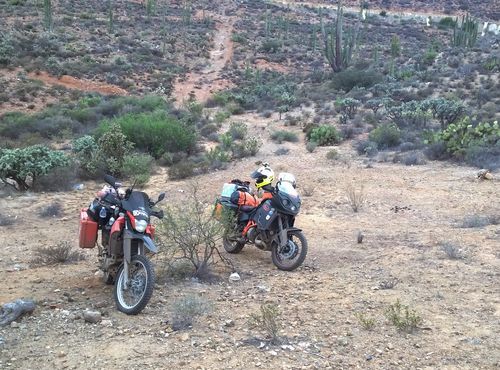 Motorcycles in the desert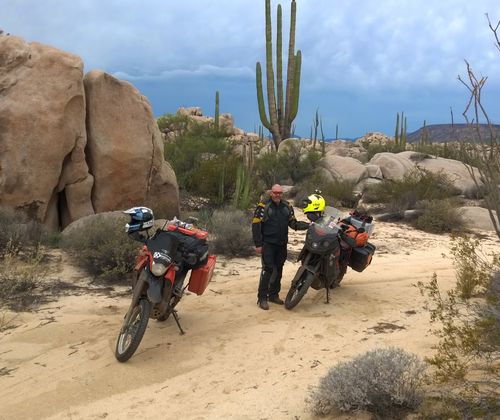 Einar and the motorcycles in the desert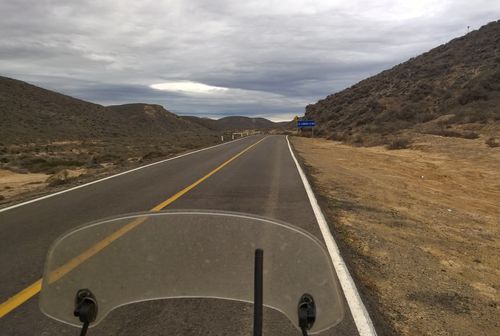 La Lobera 2 Km
Time for lunch