Los Angeles - Ushuaia
| | | |
| --- | --- | --- |
| 19. Desember 2014 | | |
Friday, 19 December 2014
Síðustu 7 daga höfum við þverað 7 landamæli með allri þeirri bið og veseni sem fylgir. Að fara milli Panama til Kólumbíu hefur verið það erfiðasta hingað til. Heildartíminn sem fór í að yfirgefa Panama og komast inn í Kólumbíu var nærri 9 klst. Við fórum samferða öðru mótorhjólafólki með ferjunni og vorum samferða áfram í að þvera landamærin og í biðinni. Við erum því búnir að eignast ágætis vini og erum nú á hóteli í Kólumbíu og höldum áfram til Ecuador á morgun.
In the last seven days we have been crossing seven borders with all the waiting and hassle during the crossings. The crossing from Panama to Colombia has been the the most difficult one until now. The total time spent leaving Panama and entering Columbia has been close to nine hours. We were travelling together with some fellow motorcyclists in the ferry and joined them crossing the borders and all the waiting. We made good friends and are now at a hotel in Colombia and continuing towards Ecuador tomorrow.
Last Updated ( Friday, 19 December 2014 )
| | | |
| --- | --- | --- |
| 18. Desember 2014 | | |
Friday, 19 December 2014
Það er ekki búið að vera gott WiFi samband undanfarna daga og þess vegna hef ég ekkert skrifað.
Þónokkrir góðir hlutir hafa gerst undafarna daga. Costa Rica er gullfalleg og annan daginn í Costa Rica byrjuðum við á ströndinni með hjólin. Vegalengdin að landamærum Panama var um 260 km og við tók enn ein þverun landamæra. Það tók okkur nærri 3 klst að komast inn í Panama og fullt af bið.
Við byrjuðum að hjóla í áttina að Panama borg en fórum svo að litlum bæ nálægt landamærunum þar sem við vorum ekki vissir hvaðan ferjan frá Panama til Kólumbíu færi. Þessi ákvörðun var ein af mörgum góðum ákvörðunum sem við höfum tekið á ferðinni. Rétt eftir að við höfðum fundið okkur hótel og komið okkur fyrir kom þrumuveður með rosa mikilli rigningu. Ég er mjög ánægður með að við héldum ekki áfram og enduðum einhversstaðar útí rassgati í þessu veðri.
Eitt af fáum áhyggjuefnum við undirbúning ferðarinnar var hvernig við ættum að komast yfir Darien bilið. Darien bilið er svæði um 100 km á lengd milli Panama og Kólumbíu þar sem engir vegir eru. Aðrir ferðamenn hafa nýtt sér ferðir með flutningagáma, flugfragt eða litla seglbáta til að komast þarna á milli en við erum mjög heppnir þar sem ferjan FerryExpress hóf ferðir fyrir nokkrum mánuðum síðan. Við vorum ekki búnir að panta okkur far með ferjunni en tókst með mörgum símtölum og tölvupóstum að fá miða með ferjunni sem fór á miðvikudeginum 17. kl 1900. Ef okkur hefði ekki tekist þetta hefðum við þurft að bíða í viku eftir plássi. Við lögðum snemma af stað, kl tíu mínutur í fimm um morguninn og vorum komnir á hádegi í Colon Panama til að hefja pappírsvinnuna sem fylgir landamæra þverunum. Loksins eftir meira en 5 klst vorum við tilbúnir að fara um borð í ferjuna.
I have not been in good WiFi connection the last days that's the reason for no postings.
There are several high lights during the last days. Costa Rica is beautiful and the second day of Costa Rica we started on the beach with the bikes. The ride to the borders of Panama was about 260 km and then one more border crossing. Crossing the borders into Panama took almost three hours with lots of waiting.
We started riding towards Panama City but returned to a small town close to the borders because we were not sure where the ferry from Panama to Columbia was sailing from. This decision about returning was one of the many good decisions we are making on the journey. Just moments after we had found a hotel and settled in, a thunderstorm with heavy, heavy rain came over the area. I am really happy we did not continue and ended up somewhere in the middle of nowhere when that happened.
One of our few concerns in planning the journey was how to cross the Darien gap. The Darien gap is an area approx. 100 km long between Panama and Colombia with no road connection. Overlanders have used container traffic, airfreight or small sail-boats to cross the gap but we were the lucky ones as a ferry called FerryExpress started sailing only few months ago. We had not made a reservation for the ferry but managed with many phone calls and e-mails to get tickets with the ferry leaving Wednesday 17that 19:00. If we had not managed we would have to wait for a week for the available space. We started early, at ten to five pm, and arrived at noon in Colon Panama to start the paperwork related to the border crossing. Finally after more than 5 hours we were ready to board the ferry.
Last Updated ( Friday, 19 December 2014 )
| | | |
| --- | --- | --- |
| 15. Desember 2014 | | |
Tuesday, 16 December 2014
Síðustu tveir dagar hafa einkennst af landamæra þverunum. Í gær fórum við yfir landamærin milli Honduras og Nicaragua. Það tók bara einn og hálfan tíma, líklega vegna þess að við vorum þar snemma á sunnudagsmorgni. Mesta breytingin frá því að vera í Honduras var að í stað Tuk Tuk leigubílanna voru þríhjól knúin af mannafli leigubílarnir. Það eru margir nýjir vegir í góðu ástandi sem bendir til að landið er að þróast í rétta átt.
Við gistum í litlum bæ sem heitir Rivas, nálægt landamærum Costa Rica. Áður en við fórum snemma að sofa fórum við í kirkju og hlustuðum á tónlist og athöfn.
Að fara yfir landamærin inn til Costa Rica var vandræðalaust en tók hér um bil þrjá tíma. Þolinmæði er dyggð þegar verið er að eiga við landamæraverði. Við erum hér um bil hálfnaðir í gegnum Costa Rica og gistum í smá strandbæ sem heitir Jaco.
Hjóladagurinn í dag var fullur áskoranna, hitastigið nálægt 40°C og mikil umferð. En á sama tíma er útsýnið yfir ströndina við Kyrrahafið ofboðslega fallegt.
Á morgun ætlum við til Panama. Planið er að fara og sjá skurðinn og finna út úr því hvernig við förum yfir Darien bilið. Eins og einhverjir kunna að vita þá er enginn vegur milli Panama og Kólumbíu og svæðið á milli landanna er kalla Darien bilið. Þetta hefur verið áskorun fyrir þá sem ætla þarna á milli.
The last two days have been dominated by border crossings. Yesterday we crossed the borders between Honduras and Nicaragua. It took only 1.5 hours probably because of being there early Sunday morning. The biggest change from Honduras was that instead of "tuk tuk" as being taxis, tricycles driven by manpower was the norm. There are many new roads in excellent condition indicating that that country is developing in the right direction.
We stayed in a small town called Rivas close to the Costa Rica borders. Before going early to bed we visited a Church and listened to music and ceremony.
The border crossing into Costa Rica was problem free but took almost three hours. Patience is a virtue dealing with border officials. We are approx. halfway through Costa Rica and are staying in a small beach town called Jaco.
Today's ride was a challenge in endurance with temperature in the high thirties and heavy traffic. On the other hand the scenery on the Pacific Ocean coast is beautiful.
Tomorrow we plan to enter Panama. We are planning to go and see the canal and figure out how to cross the Darien gap. As some might know there is no road between Panama and Columbia and the are between the countries is called the Darien gap. This has been a challenge for Overlanders.
Last Updated ( Tuesday, 16 December 2014 )
| | | |
| --- | --- | --- |
| 13. Desember 2014 | | |
Sunday, 14 December 2014
Annar dagurinn í Guatemala var að megninu til eins og sá fyrsti. Landslagið dásamlegt og veðrið gott. Ég tók eftir því að það voru oft börn við götuna að veifa bílunum. Ég ákvað að stoppa og komast að því hvers vegna, sannleikurinn er sá að þetta voru allt betlarar. Þvílíkt líf.
Við fórum í gegnum borgina Guatemala og þvlík martröð að gera það að degi til. Meira en tveir tímar í umferððaröngþveiti þar sem við komumst lítið og þurftum að berjast fyrir smá rými á götunni. Yfirleitt reynum við að forðast borgirnra en það er ekki alltaf hægt. Eins og svo oft áður var tekin mynd af mér og eldabuskunni sem við keyptum matinn hjá.
Enn einum áfanga ferðarinnar var náð þegar við fórum yfir landamærin inn í El Salvador. Það tók okkur þrjá tíma með mikilli bið en engum vandamálum. Við stoppuðum við fyrsta hótelið þar sem það var að koma myrkur og sáum allskyns marglit ljós og fengum smjörþefinn af jólunum.
Í dag hjóluðum við frá einum enda El Salvadors til annars, um 300 km. Aðal munurinn á El Salvador og Guatemala er að við komum niður úr fjöllunum og vorum á milli 40 og 400 m yfir sjávarmáli. Þegar við fórum yfir eina brúnna sáum við vatnsaflsstöð öðrumegin og skírn hinumegin. Við fórum yfir landamærin inn til Honduras og enn aftur tók það tímann sinn, en í þetta sinn "bara" tvo tíma.
Við ákváðum að gista eina nótt í Honduras þrátt fyrir að við munum bara hjóla 130 km í landinu. Erum búnir að tékka okkur inn á hótel í bænum Choluteca og þurfum nauðsynlega að komast í sturtu. Allar rúturnar á veginum spýja yfir okkur sóti og þar sem hitastigið er búið að vera vel yfir 30°C og við í hlífðarfötunum að svitna eins og...
Á morgun förum við yfir enn ein landamærin. Í þetta sinn inn til Nicaragua.
Day two of Guatemala was for the most of the day more of the same from day one. The landscape spectacular and the weather good. I had noticed that along the road were very often groups of children waving at the cars. I decided to stop and see what it was all about and the truth is that all these children are working as beggars. What a life.
We rode through Guatemala city and what a nightmare during daytime. More than two hours spent in traffic chaos with little movement and lot of fighting for room on the street. We always try to avoid the cities but it is not always possible. Like so often I get a picture of me and the person serving food and lunch in Guatemala city was no exception.
One more milestone was reached in the expedition as we crossed the borders into El Salvador. The crossing took three hours and lot of waiting but no problems. We stopped at the first available hotel as it was getting dark and experienced colorful lights and a little bit of Xmas feeling.
Today we basically rode from one end to the other in El Salvador approx. 300 km. The main difference between Guatemala and El Salvador is that we left the mountains and came down to altitude between 40 to 400m above sea level. When crossing a bridge there was a hydro power-plant on one side and beautiful landscape and a baptism on the other. We crossed the borders into Honduras and again the crossing was time consuming but it took "only" two hours this time.
We decided to stay one night in Honduras even though we only have to ride 130km in the country. We have now checked in at a hotel in the town if Choluteca and needed a shower. We were covered in soot from the many buses that are on the road and the temperature has been well over 30 centigrades today and we in our motorcycle gear sweatting like ......
Tomorrow we are once more border crossing. This time into Nicaragua.
Tvö myndskeið úr ferðinni hingað til.
Last Updated ( Friday, 19 December 2014 )
| | | |
| --- | --- | --- |
| 11. Desember 2014 | | |
Friday, 12 December 2014
Vá, þvílíkur dagur. Öðrum áfanga náð þegar við fórum yfir landamærin til Guatemanal. Við erum loksins komnir inn í mið-Ameríku eftir langa daga á vegum með vegatolla í Mexíkó og þvílíkar andstæður. Það tók tvo tíma að komast yfir landamærin og það voru engin vandamál varðandi skráninguna á Icetrack'inu (mótorhjólið) eins og þegar við fórum inn í Mexíkó. Tímabundinn innflutningslímmiði á framrúðuna og klárir að halda áfram.
Fleiri og fleiri Vá! Hvers vegna? Guatemala er með glæsilegt landslag, hæðin yfir sjávarmál breytist og breytist, allt frá 600 m upp í 3.000 m og 200 km án beins kafla sem nær lengra en 500 metra. Í stuttu máli sagt, paradís mótorhjólamanna.
Dagur sem þessi er kjarninn í ævintýra mótorhjólamennsku.
Wow what a day. Another milestone as we crossed the Guatemala border. Finally we are in Central America after long days on toll roads in Mexico and what a contrast. The border crossing took two hours and no problems with the registration of the Icetrack like when going into Mexico. The temporary import label in the wind-shield and ready to go.
Wow again and wow again. Why? Guatemala offers beautiful landscape, altitude changes again and again, varying from 600 m above sea level to over 3000 m and over 200 km without a straight part longer 500 meters. In short, motorcyclists paradise.
A day like this one is the true the essence of Adventure motorcycling.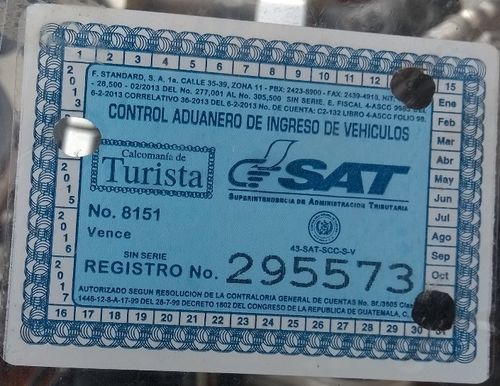 The Guatemalan temporary import lisence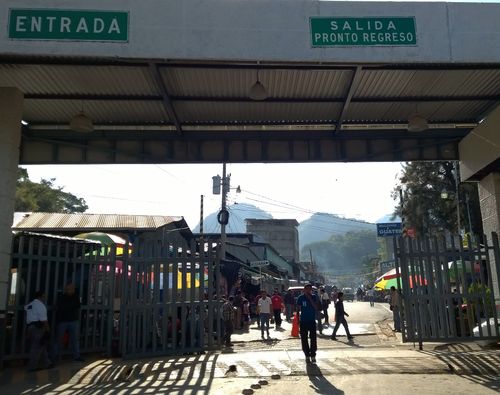 The border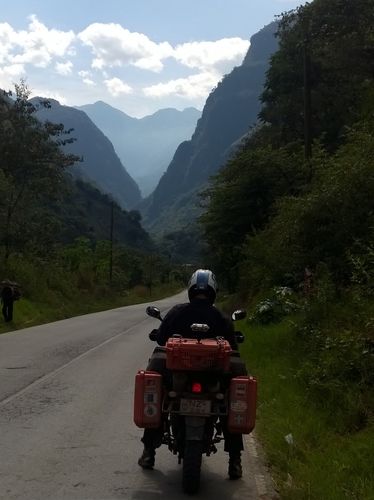 The view on the road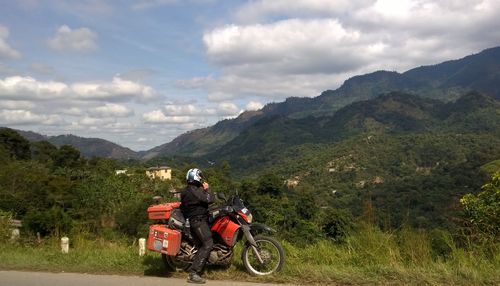 Guatemala is beautiful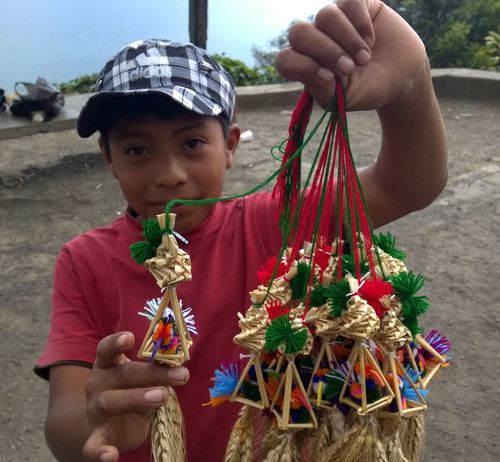 Five for 20 mister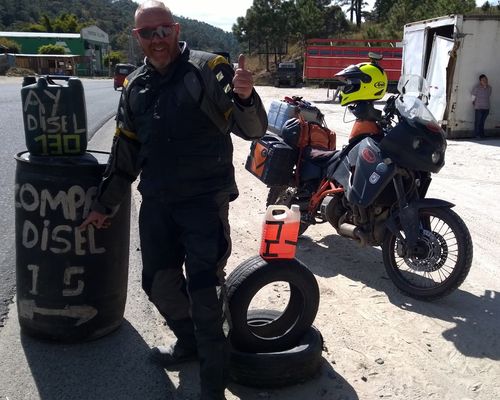 Finally it's easy to get Diesel fuel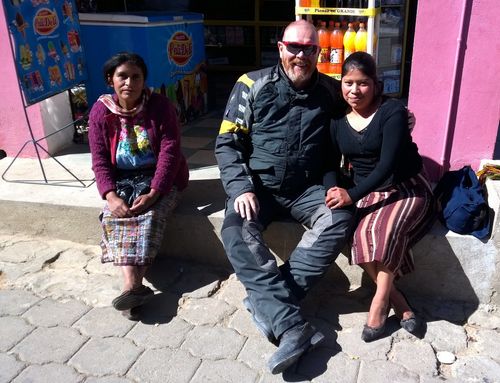 Me and the Guatemalan ladies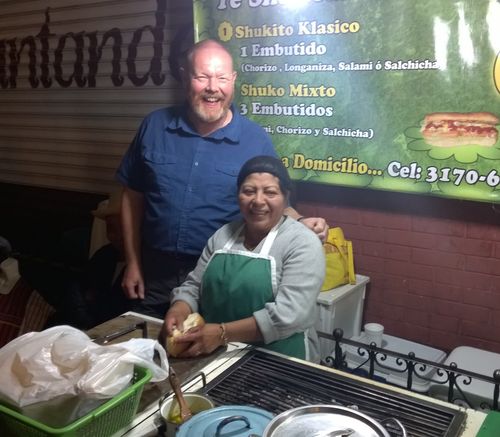 Me and the dinner lady
Last Updated ( Friday, 12 December 2014 )
| | | |
| --- | --- | --- |
| 9. Desember 2014 | | |
Wednesday, 10 December 2014
Síðastliðna tvo daga höfum við mestmegnis hjólað á hraðbrautum til að komast yfir eins marga kílómetra og mögulegt. Það er bæði leiðinlegt og dýrt að vera á hraðbrautunum. Flestar hraðbrautirnar eru með gjaldtöku og það er áhugavert að það er nærri tvöfalt dýrara að hjóla á þeim vegum en hinum venjulegu sökum gjaldanna. Við erum búnir að fara um 1100 km þessa tvo daga og það eru enn 500 km í að við komum að landamærum Guatemala. Mexíkó er risa stór!!
Fyrir utan eldsneytis- og matarhlé er ekki mikið að gerast.
Hápunktar dagsins voru að hefja daginn í 2600 m hæð í köldu veðri, 6°C, og að ljúka honum í 40 m hæð yfir sjávarmáli í rigningu og 22°C.
Að við hjóluðum 12 km í vegkanntinum þar sem umferðin á hraðbrautinni haggaðist ekki vegna vandræða við gjaldtökuhliðin. Það er stundum gott að vera á mótorhjóli.
Og að hjólunum var lagt í ganginum á hótelinu þar sem við gistum í nótt.
En venju samkvæmt var besti hlutinn að hitta einstakt fólk þar sem við stoppuðum.
During the last tvo days we have mostly been riding highways to cover as many km as possible. Riding the highways is both boring and expensive. Most of the highways are toll roads and it is interesting that the cost of riding the toll roads is more than double riding normal roads due to the toll. We have covered around 1100 km the last two days and have still another 500 to go before we reach the Guatemala borders. Mexico is huge!!
Apart from the fuel and food stops not much is happening.
Today's highlights were; starting the day in 2600 m altitude with cold temperature, 6 centigrades, and ending the day 40 m above sea level in rain and temperature 22 centigrades.
Riding the right road shoulder for 12km as the traffic on the highway was totally stopped due to some issues with toll gates. Its sometimes nice to be riding a motorcycle.
Parking the motorcycles in the hallway of the hotel where we are staying.
But as usual it was meeting special people at the stops that really was the best part.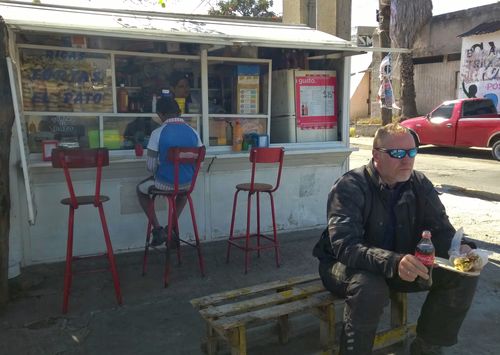 Taking a break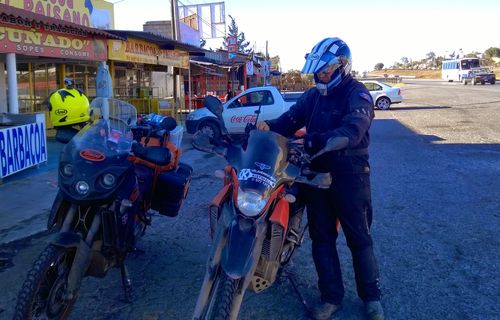 Getting ready to go again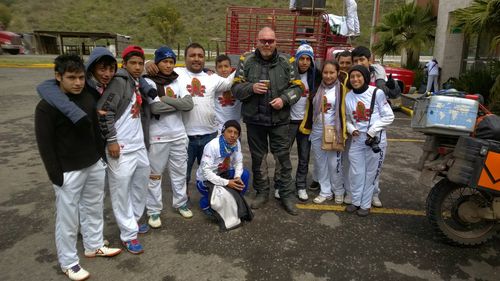 Socializing with the locals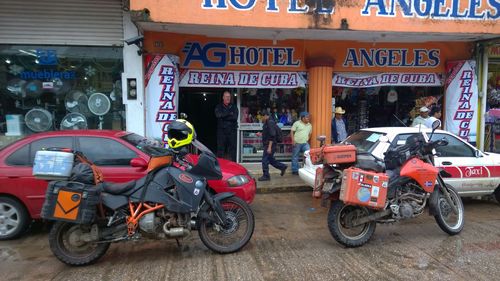 Hotel Angeles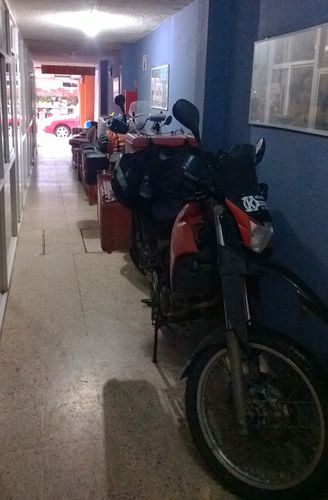 Mortorcycles in the hall
Last Updated ( Sunday, 14 December 2014 )
| | | |
| --- | --- | --- |
| 7. Desember 2014 | | |
Monday, 08 December 2014
Við fórum rúmlega 500 km í dag og erum því búnir að fara um 2800 km alls. Dagurinn í dag var líklegast sá fyrsti af mörgum þar sem við leggjum af stað um morguninn og hjólum í 8 - 10 klst áður en við finnum okkur náttstað. Minningar úr ferðinni hringinn í kring um heiminn árið 2007 eru mér ofarlega í huga á daginn.
Áhugaverðasti hlutinn er að sjá og hitta fólk. Að spjalla við konuna sem seldi mat við götuna í gærkvöldi, að stoppa við mexíkanskan veitingastað/verslun á afskektum stað og spjalla við íbúa staðsins án þess að eiga sameiginlegt tungumál, að líða eins og stórstjörnu þegar ég hitti mótorhjólaaðdáendur á bensínstöð, og að lokum að hitta fólk sem flutti frá Kaliforníu til Mexíkó og hjálpaði okkur að finna svefnstað.
Þetta var góður dagur

We covered just over 500 km today and the overall distance travelled is around 2800 km. Today was probably the first day of many to come where we start in the morning and ride for eight to ten hours before finding a place to stay for the night. Memories from my round the world trip 2007 kept coming to my mind during the day.
The most interesting part is seeing and meeting people. Chatting with the lady selling street food yesterday evening, stopping at a local remote restaurant/shop and talking with the locals without having a common language, feeling like a celebrity meeting motorcycle enthusiasts at a gas station and finally meeting a ex-pat couple from California that helped us find a place to sleep.
It was a very good day.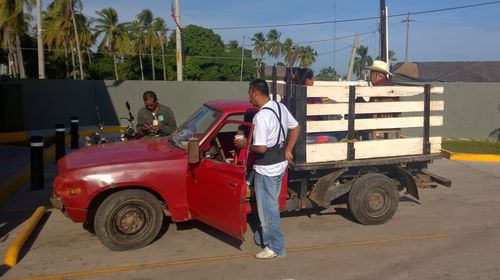 Local transport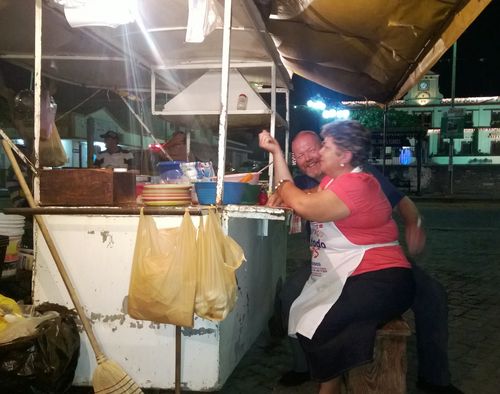 The lovely dinner lady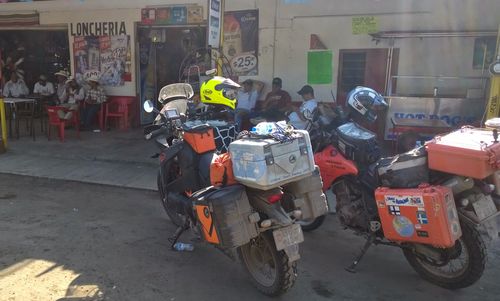 Lunch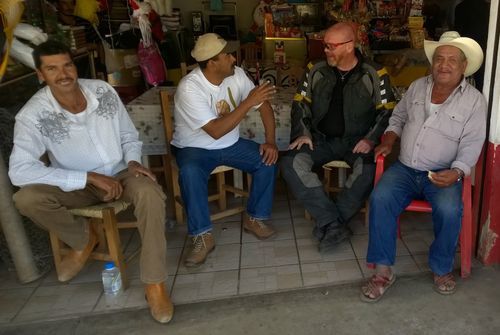 Hanging out with the locals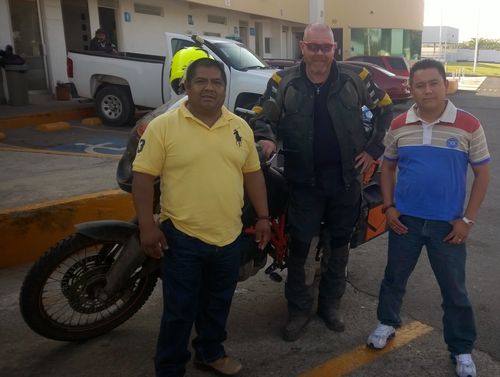 Fellow motorcycle enthusiasts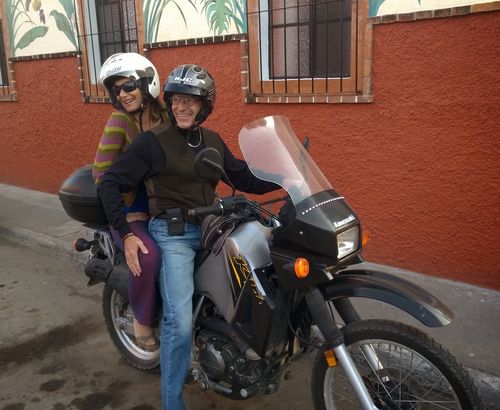 The ex-pats
Last Updated ( Monday, 08 December 2014 )
<< Start
< Prev
1
2
3
Next >
End >>
Results 12 - 22 of 25